Back to news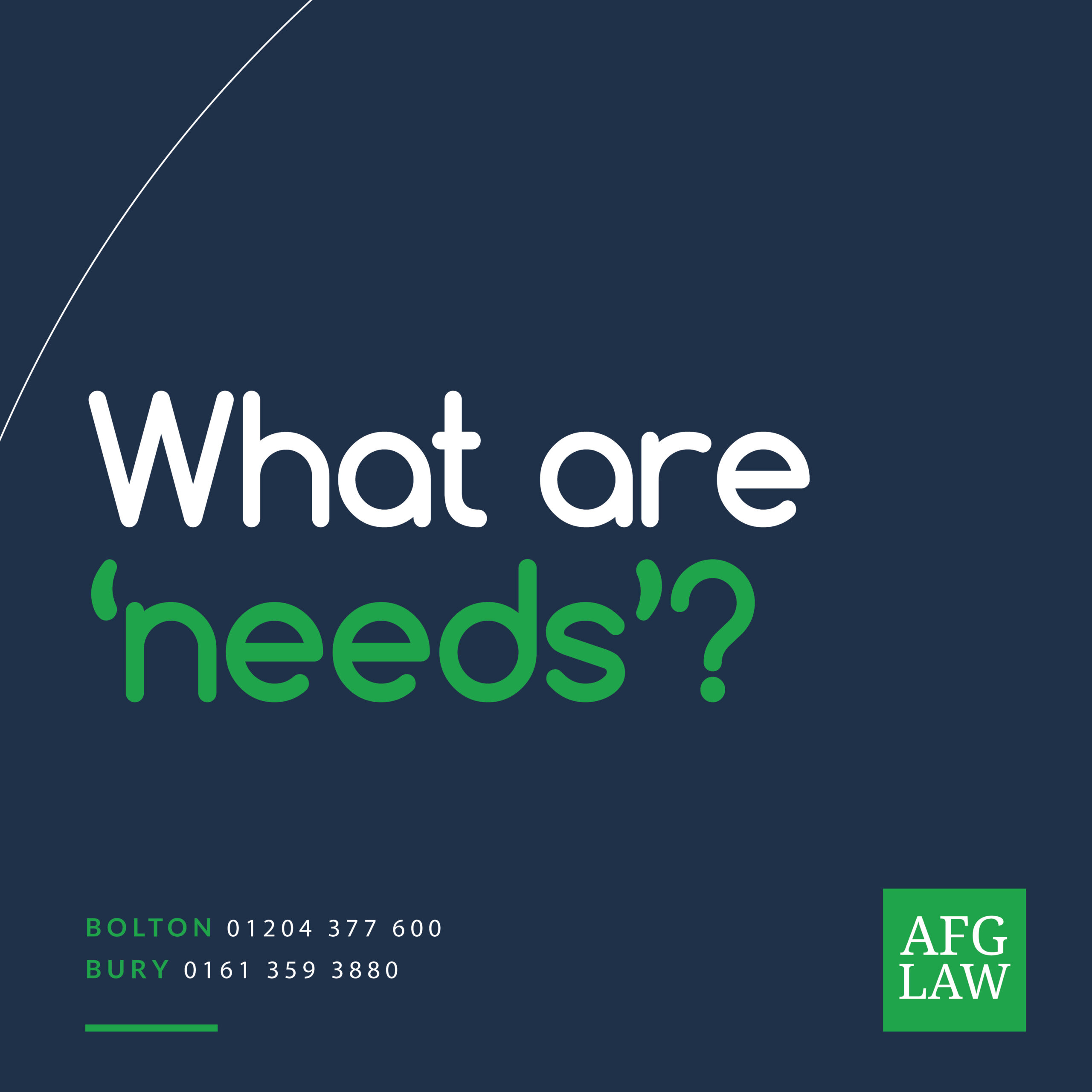 What are 'needs'?
Friday July 1, 2022
Most divorces in this country don't involve celebrities or the super rich, they involve normal families and the focus of the court in these cases is on the needs of the children and the needs of the two spouses.
If there are children of the family, under the age of 18, the law says that their welfare is the first consideration. The law defines children of the family as meaning the children of both spouses or of one spouse but treated by both the spouses as children of the family i.e. stepchildren.
The law then focusses on the needs of the divorcing couple and works on the basis that the starting point to achieve a fair outcome for both spouses starts with trying to ensure that both their needs are met in the short term, and in the long term if there are sufficient resources to allow for that to happen.
'Needs' is quite a flexible term; if a family has become used to a high standard of living then their 'needs' to maintain their lifestyle might be greater than the 'needs' of a family with a more modest lifestyle. When trying to establish the standard of living during the marriage you might look to monthly bills, frequency of eating out, days out and holidays, the cars driven, whether any children were privately educated.
"Needs" can also be affected by decisions made by the couple, an example might be if one spouse stayed at home to care for the children and therefore had a long period out of employment, losing skills, requiring retraining, and having less opportunity to accrue a pension etc. A Judge may then take the impact of these circumstances upon that spouse and compensate for this by allowing a financial package that assists the spouse transitioning to being financially independent.
Ultimately, there is only one 'pot' of assets and when it is divided into two usually neither spouse is going to be able to have the same lifestyle as before the relationship breakdown. 'Needs' will also have to be realistic. If the divorcing couple previously lived together in a detached 5 bedroomed house it is unlikely they will both be able to afford the same type of property on their own or that it could be said to be a reasonable 'need'. One household rarely divides into two without compromises being made in respect of property type and standard of living.
Our solicitors can help guide you through the financial settlement process to ensure that you achieve the best possible outcome.
Contact familysolicitor@afglaw.co.uk for further information or call us on 01204 377600.