Back to news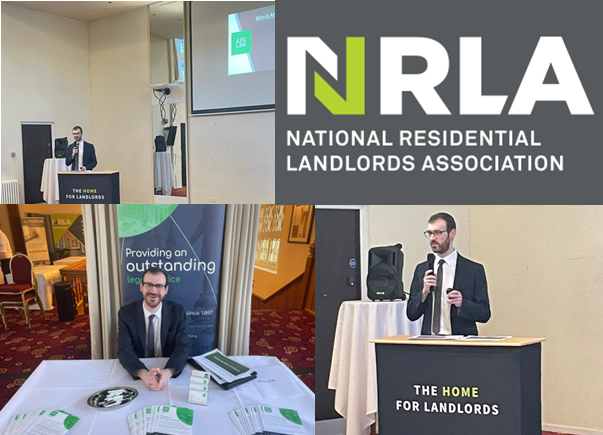 The procedural pitfalls of being a landlord
Thursday March 9, 2023
Solicitor Matthew Taylor has worked with landlords for many years and is a well known and respected authority when it comes to the legal minefield a landlord enters.
The National Residential Landlords Association invited Matthew to speak at their recent event in Leeds about the procedural pitfalls landlords should be aware of when evicting tenants and issuing possession proceedings themselves. His session was well received and he spoke to numerous people who visited AFG LAW's stand at the event, advising on all aspects of being a landlord.
Matthew acknowledges that acting as a landlord can be a challenging experience and one which is fraught with numerous legal risks.
He says, "All too often, procedural pitfalls can catch out the unwary landlord – whether it's from using the wrong form of eviction Notice or relying on the wrong eviction Ground, through to serving the Notice via an improper method or even failing to give the tenant the correct amount of notice. Procedural errors can be costly and mean landlords end up wasting considerable time, effort and money as a result.
Whilst some procedural oversights can be remedied, others cannot. In those cases, landlords can see their possession claims being Struck Out by the Court, and find themselves going back to square one.
Ensuring you take proper legal advice beforehand however will ensure such procedural pitfalls are avoided, and maximise your chances of successfully obtaining an Order for Possession."
If you would like to speak to one of our solicitors regarding an eviction query or issue which you are experiencing with tenants, please contact our Dispute Resolution Team on 01204 377600, or by emailing us at disputeresolution@afglaw.co.uk