Back to news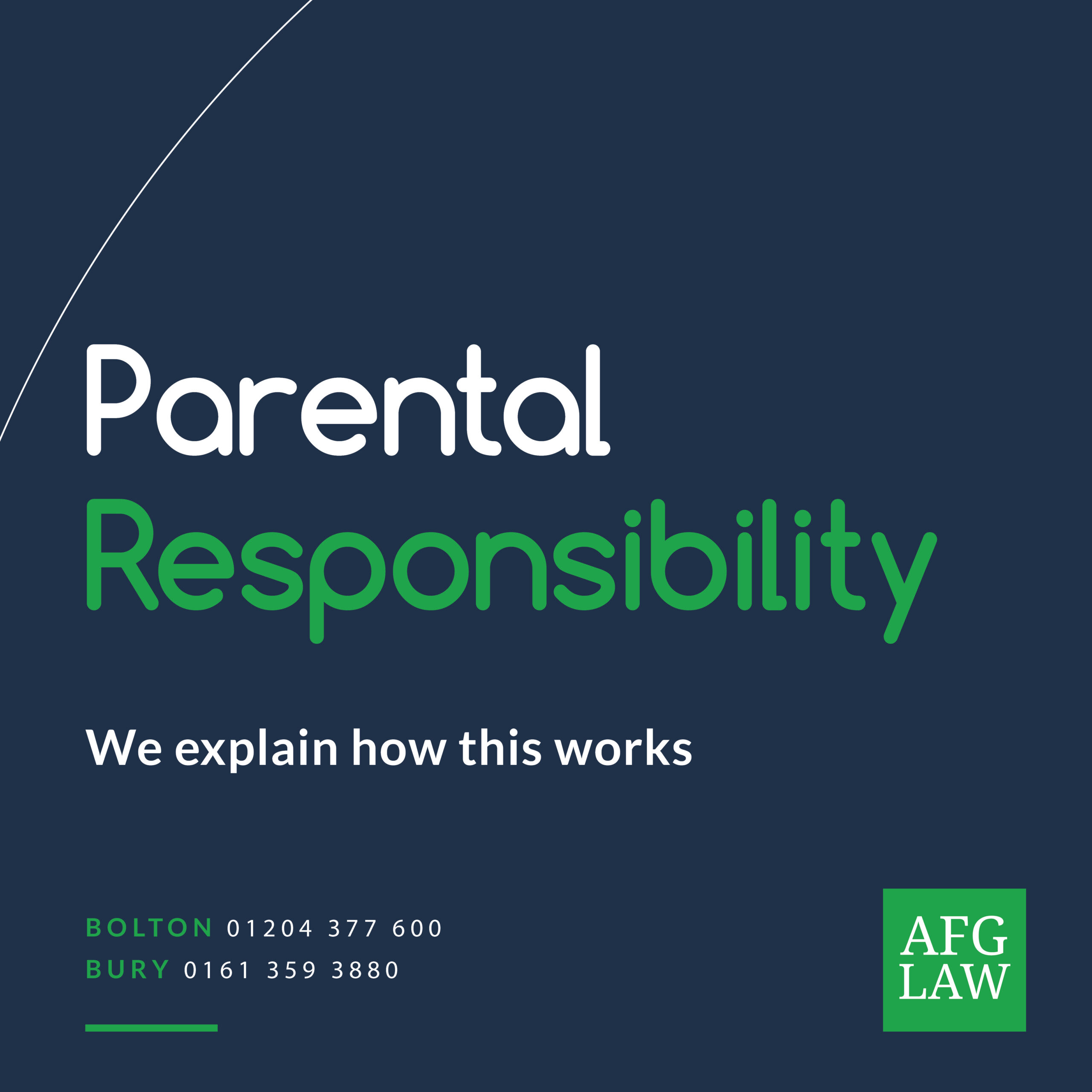 Parental Responsibility
Friday July 1, 2022
Parental responsibility is an important legal status that parents need to understand, but what does it mean and what do you need to know?
Our children solicitors will always talk about parental responsibility with you and discuss who has parental responsibility for your children. Parental responsibility is important as it can affect whether you can make a decision about your child and who else can make decisions.
What is parental responsibility?
Parental responsibility is defined as 'all the rights, duties, powers, responsibilities, and authority that by law a parent of a child has in relation to the child and his property'.
You might hear parental responsibility being called 'PR' for short.
On a day to day level it covers the decisions and responsibilities that a parent might have to make on behalf of their child during their childhood. It gives you the ability to:
Access a child's medical records
Make decisions and consent to medical treatment
Access a child's school reports
Decide how and where a child should be educated
Teach a child about religion, culture and bring up a child with certain belief structures
Be responsible for making sure a child has suitable food, clothing and discipline
Make decisions about where they should live
Taking the child abroad on holiday
More than one person can hold parental responsibility and the most common situation is where both the mother and the father have parental responsibility. If you share parental responsibility with another person you each have an equal say in what should happen
If two parents share parental responsibility, but are parenting apart, the parent who has the day to day care of the child will likely make most of the practical, low level decisions and should be able to use their parental responsibility without undue interference from the parent who does not live with the child most of the time.
Some decisions should not be made without discussing the decisions with everyone with parental responsibility. These include important decisions about education, health, changing a child's name, for example.
Do I have parental responsibility?
The following people automatically have parental responsibility for a child at birth:
The biological mother of a child
If a mother and father are married to each other at the time of the child's birth
A parent by s42 or s43 of the Human Fertilisation and Embryology Act 2008 if the second female is in a civil partnership or married at the time of treatment or the mother has agreed for the second female to have parental responsibility
A father can gain parental responsibility for a child if:
He marries the mother of his child
His name is placed on the birth certificate when the baby's birth is registered
He enters into a parental responsibility agreement with the mother
He applies to the court for a parental responsibility order
Other people can gain parental responsibility including:
A child's guardian (appointed in a will or by a court if the child has no parent with parental responsibility)
An adoptive parent
A person who has a parental order after surrogacy
A local authority if a care order is made
A Special Guardian
A person who has a child arrangements (live with) order for a child
A step-parent who has a parental responsibility agreement or order
What does the court look at when making a parental responsibility order?
A judge considering an application for a parental responsibility order will want to ensure that the person applying for the order is in fact the father of the child. A DNA test can be ordered in some circumstances and there are certain testing firms that have got the right qualifications for their tests to be accepted by a court. A declaration of parentage application could also be made.
The court will also consider the commitment of the father, the degree of attachment between the father and the child and the father's reasons for applying for parental responsibility. This isn't all a court needs to consider and it will depend on the individual circumstances of the family. The court will also have to consider the welfare checklist.
What if I am looking after a child but I don't have parental responsibility?
A person who is caring for a child but does not have parental responsibility may do what is reasonable in all of the circumstances of the case for safeguarding or promoting the child's welfare.
How long does parental responsibility last?
Parental responsibility comes to an end when a child reaches the age of 18, if a child is adopted, if you obtained parental responsibility through a child arrangements order (live with) and the order has come to an end.
Parental responsibility can be removed but this is extremely rare
I don't have parental responsibility, do I have to pay child maintenance?
Child maintenance and parental responsibility are treated completely different. You have a responsibility to maintain your child whether you have parental responsibility or not and whether you are seeing them or not.
Can parental responsibility be taken off someone or limited?
Yes but this is an extremely rare step for the family court to take. It has only happened in extreme circumstances involving srious violence and abuse. An example is where a father was imprisoned for sexually abusing his child's step-sisters, during the imprisonment there had been no contact between the father and child and the child did not want to have any further involvement with his father. It would have also placed a strain on the mother to provide the father with information about the child against the child's wishes.
What if people who share parental responsibility don't agree on making a decision about the child's welfare?
If an agreement can't be reached about what is in the best interests of a child, whether about their health, education, religion or if they should travel abroad, an application can be made to the court for a specific issue order. The court will then hear evidence from both parents, and any experts, and make a decision about what should happen.
If a person who holds parental responsibility opposes a decision that the other person wishes to make then they can apply for a prohibited steps order to stop something from happening. The court will then make a decision on what the Judge believes is in the child's best interests.
A parent does not have to have parental responsibility to make an application to the court.
Our family team can help you with a full range of legal services.
Contact familysolicitor@afglaw.co.uk for further information or call us on 01204 377600.