Back to news
Bethany Gets Practicing Certificate
Saturday May 21, 2022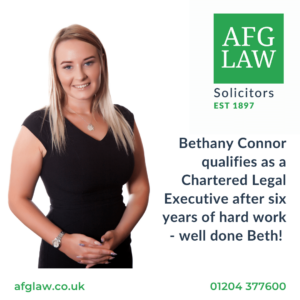 Bethany Connor has received her Practicing Certificate from CILEX, becoming a Chartered Legal Executive.
Since joining AFG LAW, Bethany has relentlessly pursued her dream of becoming a lawyer and has studied hard outside of her demanding work schedule to make it happen.
Family director and solicitor Emma Cordock says, "Beth's well deserved qualification comes after six years of focus and hard work. Having worked closely with Beth since she joined AFG LAW, and mentored her over the years, I couldn't be happier. I have watched her mature and grow not only professionally but personally. I am extremely proud of her achievement and know this is just the start of her career in law, there's more to come!"
Beth adds, "It doesn't seem real right now! I have been working towards this goal for so long that to have now qualified is amazing. I cannot thank Emma and all the directors at AFG LAW for allowing me the opportunities to follow my dreams."
Beth is currently Bolton Law Society's 2021 Training Lawyer of the Year, the first year that this award was opened up to all training lawyers, not just training solicitors so Beth is the first to win this particular award.
Beth is an excellent lawyer and the whole team at AFG look forward to seeing her continue to flourish.