Back to news
£500 Cheque Handover to Bolton Lads & Girls Club
Wednesday July 18, 2018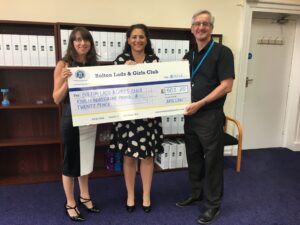 Pictured L-R: Anita Boardman (Managing Director AFG LAW), Tracy Haslam (Chartered Legal Executive AFG LAW) and Paul Griffiths (Head of External Funding & Partnerships Bolton Lads & Girls Club)
AFG LAW Silent Charity Auction raises over £500 for Bolton Lads & Girls Club
We hosted a silent auction to support Bolton Lads & Girls Club's Yellow & Blue Day.
All staff were invited to participate and the Directors closed the office early so that everyone could attend the auction. It was a huge success and proceeds from the event totalled £501.20.
BLGC encourages young people to be the best they can be by providing innovative activities, unique experiences and high-quality enterprise programmes. They support young people to meet their full potential while providing a safe place with friendly faces to talk to. Several of our staff are also involved in the mentoring scheme ran by the club and in addition to being Patrons, we have supported them for over 16 years.
"The silent auction was a huge success. Tracy worked really hard to get everyone involved from securing auction lots to making the day fun. We were able to demonstrate our commitment to supporting Bolton Lads & Girls Club,' said Anita Boardman, managing director of AFG LAW.  'As a firm, we are committed to giving something back and helping to make our communities better, however we can. Events like these enable us to support Bolton Lads & Girls Club for the great work they do with the young people in our town.'
Kelly McFadden, Fundraising Manager at Bolton Lads & Girls Club added "AFG LAW have supported us for many years giving both their time and expertise to help the Club. The Silent Auction was a great event and we appreciate all the efforts that Tracy and her team made to ensure it was a success."