Meet our 2017 Employees of the Year
December 28, 2017
Our 2017 Employees of the Year were announced at our Business Training Day and staff were presented wtih various prizes.  All nominations were submitted by members of staff who had to nominate their colleagues.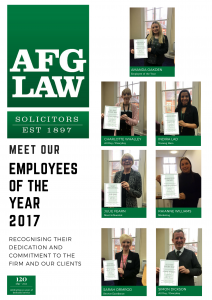 Our winners were:
Amanda Oakden – Employee of the Year
Charlotte Whalley – All Day Every Day
Indira Lad – Unsung Hero
Julie Fearn – Most Influential
Rhianne Williams – Marketing
Sarah Ormrod – Service Excellence
Simon Dickson – All Day Every Day
Congratulations to them all and a huge thank you for your hard work and commitment to the firm.