Bethany Connor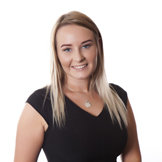 Name: Bethany Connor
Position: ACILEx
Number: 01204 377600
Email: bethany.connor@afglaw.co.uk
LinkedIn: Click Here To View Profile
Bethany is due to commence training as a Chartered Legal Executive on 1 July 2019 at AFG LAW, working predominantly in the Family Department. She is due to qualify in August 2020.
She gained an A Level in Law at Bury College, following that commenced her employment at AFG LAW in July 2014, where she started as a legal apprentice. Bethany became an Associate Member of CILEx on 29 March 2018 during her studies with Professional Vocational Law Training(PVLT) in Oldham.
Bethany wishes to further her education to becoming an Associate Solicitor in the near future.
Bethany represents AFG LAW at numerous events and enjoys networking and meeting new contacts.
Professional and Vocational Law Training also published a profile of Beth here.
Videos