Michael Morgan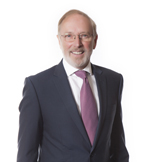 Name: Michael Morgan
Position: Senior Property Lawyer
Number: 01204 377600
Email: michael.morgan@afglaw.co.uk
LinkedIn: Click Here To View Profile
Michael Morgan (full name David Michael Morgan) has been with the firm since 1961 and qualified as a solicitor in December 1966. He was a partner between the years 1970 to 2004, after which he retired from the partnership to become a senior associate within the practice. Formerly having been the senior partner, he now concentrates his time as a private client lawyer specialising in people and their affairs and, in particular, their property.
Michael has a lifetime`s experience of residential and commercial property and associated land law and is a member of the academy of experts in public rights of way. His areas of particular experience/expertise include the following:
· Public and private rights of way
· High value / complex residential, commercial and development land and property transactions
· Commercial leases
· Easements and other proprietary rights
· Boundary disputes
· Possessory / squatters title
· Pre and post land registration of titles and associated deeds and documents
· Land Registry adjudication process
· Sources of alternative land ownership information.
Contact us now
If you are in need of legal advice we want to hear from you. You can either fill in our online contact form or call us now on01204 377600.
Videos